"14 Swift Currie Attorneys Recognized in Best Lawyers 2019, R. Briggs Peery Named Lawyer of the Year," Atlanta CityBizList, Metro Atlanta CEO
08.17.2018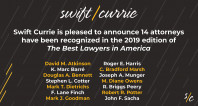 Swift, Currie, McGhee & Hiers, LLP's, announcement of its 14 honorees in this year's The Best Lawyers in America, which included R. Briggs Peery as Lawyer of the Year in Atlanta for the category of Workers' Compensation Law – Employers, was published in Atlanta CityBizList on August 15, 2018, and Metro Atlanta CEO on August 20, 2018.
"It is always an honor to have so many of our attorneys represented on this list, especially because it is based largely on the opinions of fellow attorneys," said Terry O. Brantley, Swift Currie managing partner. "This recognition reflects our attorneys' commitment to providing excellent, results-driven service in any type of litigation matter our clients may face."
Click here for the full article in Atlanta CityBizList and here for the full article in Metro Atlanta CEO.

Find the full press release here.