Making a Difference in Our Community One Project at a Time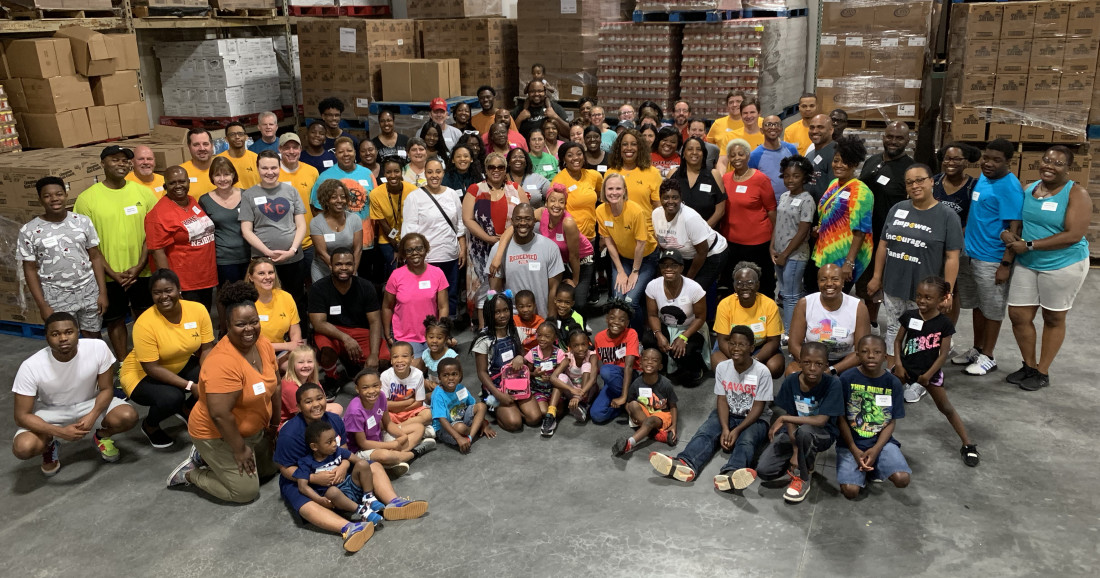 In conjunction with providing our clients exceptional legal services, the firm has long valued our community service as an integral part of our mission and identity. At Swift Currie, we are aware of our duty to provide a helping hand to members of our community in need, doing so in large part at the direction of our Community Relations Committee.
As such, the firm encourages our attorneys and staff to volunteer with organizations that align with their charitable areas of interest and participate in meaningful pro bono work. Over the years, our attorneys have partnered with nonprofits such as Atlanta Legal Aid, Atlanta Volunteer Lawyers Foundation and Pro Bono Partnership Atlanta to offer legal services and educational training.
Together as a firm, and in many instances alongside our clients, we strive to make a positive difference in the lives of those in our community. We give back one project at a time with a focus on overcoming food insecurity, championing health initiatives and supporting local nonprofits. A sample listing of our current commitments follows.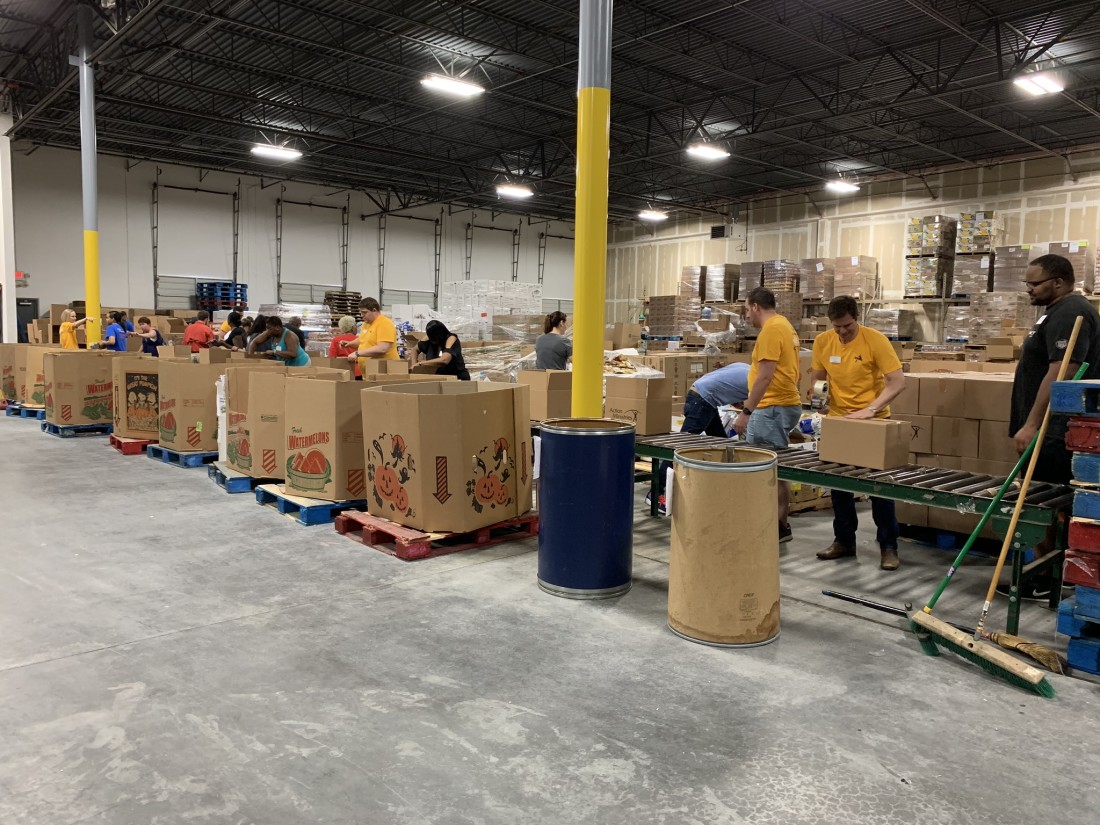 OVERCOMING FOOD INSECURITY
With 16.2 percent of people in Georgia facing food insecurity and 23.2 percent of children living in food insecure households, Swift Currie is dedicated to tackling hunger in our community.
We host an annual client service event with Action Ministries, a nonprofit working to lead fellow Georgians out of poverty. Together with our clients, we pack Feed the Hungry food boxes and Smart Lunch, Smart Kid snack packs to close the hunger gap in Georgia.
The firm also holds an annual food drive for the Atlanta Community Food Bank during the Legal Food Frenzy. In 2022, the firm donated a total of 2,353 pounds of food, which provided 2,824 meals for Georgians facing food insecurity.
Championing Health Initiatives
Swift Currie places an ongoing focus on the health of our fellow community members to ensure those in need have access to essential wellness items.
Each March, the firm holds a firm-wide blood drive for the American Red Cross. Donating 42 units in 2018 and 40 units in 2019, we regularly surpass the goal set for us by the Red Cross.
During October, the firm recognizes Breast Cancer Awareness Month. In 2018, the firm collected puzzles, coloring books and coloring pencils for Breast Cancer Warriors undergoing chemotherapy and other infusion treatments. We also shared facts and statistics on breast cancer and discussed the importance of testing.
In the wake of hurricanes Florence and Michael, we joined East Coweta Middle school's initiative to collect critical items for rural areas of South Georgia that were hit hardest by the hurricanes.
The firm often partners with Helping Mamas, an organization seeking to provide essential baby items so no parents has to choose between necessities, to host a diaper drive to benefit local families in need.
We annually solicit names from employees of family members or friends serving overseas in the military. We collect monetary donations, toiletries, snacks and other goods for the service members and pack a care box for each, along with a buddy box to share with their units.
Supporting Local Nonprofits
Swift Currie is steadfast in supporting local nonprofits and organizations that directly impact the lives of those in our community, offer resources for low-income residents and work toward improving animal welfare.
The firm joins ServiceJuris annually for ServiceJuris Day, a day in which we unite with the legal industry to volunteer for a service project coordinated by Hands On Atlanta. In 2018, our attorneys restored two elderly homes in the Thomasville Heights Community by completing service that included interior and exterior painting, landscaping and construction a gravel driveway.
We frequently sponsor and participate in 5Ks benefitting nonprofits such as Atlanta Legal Aid's Run for Justice and Back on My Feet's Meaningful Miles. Additionally, our team has run in the Atlanta Bar Association's Legal Runaround, which provides college scholarships to children of Atlanta police offers who have been disabled or lost their lives in the line of duty.
To address the needs of our four-legged friends, Swift Currie has hosted a fundraiser and participated in the Walk for the Animals for the Atlanta Humane Society. Additionally, we collect recycled newspapers to donate to the Lifeline Animal Project.
2021 Book Drive Benefiting Children Read Atlanta
To learn more about our book drive in partnership with our clients and Children Read Atlanta, please click here.
2022 Backpack and Supply Donation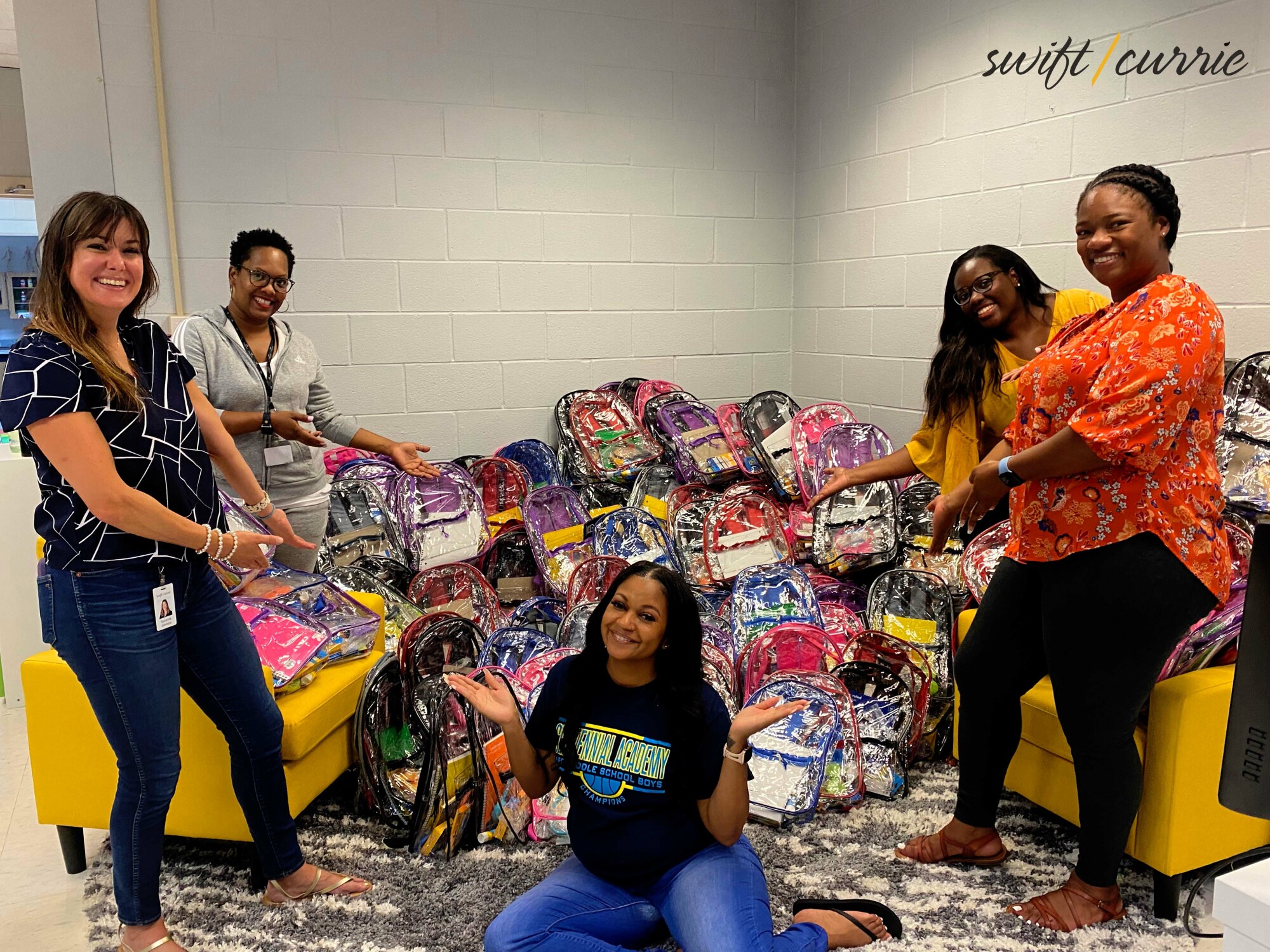 In July 2022, our Community Relations Committee organized a backpack community event where members of our team got together to provide backpacks filled with school supplies to deserving students. Thanks to everyone's efforts, we were able to donate 144 supply-filled backpacks to Centennial Academy.
Centennial Academy is a conversion charter school in the heart of Atlanta that educates scholars from Kindergarten through 8th grade. As a community school, Centennial Academy extends beyond its campus borders, creating strong partnerships with institutions of early and higher learning, industry and social service that support an expansive curriculum.
Community Relations Committee Chairs


LISA WADE
Partner
T: 404.888.6110
Email




CALVIN YAEGER
Partner
T: 404.888.6195
Email
Donated 4,481 pounds of food to food bank