15 Swift Currie Attorneys Named Among Georgia Super Lawyers for 2018
02.23.2018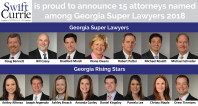 Swift, Currie, McGhee & Hiers LLP, is pleased to announce that seven of its attorneys have been included in the 2018 Super Lawyers list for Georgia, and an additional eight have been recognized among the 2018 Rising Stars. Only five percent of lawyers in the state are named as Super Lawyers, and no more than two-and-a-half percent are honored as Rising Stars, which include attorneys who are 40 years old or younger and/or have been practicing for 10 years or less. The complete list of honorees is available today at www.superlawyers.com, where lawyers can be searched by practice area and location.
The Swift Currie attorneys named among Georgia Super Lawyers for 2018 are:
The Swift Currie attorneys named as Rising Stars are:
The Super Lawyers selection process is a comprehensive, good-faith and detailed attempt to produce a list of lawyers who have attained high peer recognition, meet ethical standards and have demonstrated a degree of achievement in their fields. The selections for Super Lawyers are made by Law & Politics, a division of Key Professional Media, Inc. of Minneapolis, Minn.
About Swift, Currie, McGhee & Hiers, LLP
Based on more than 50 years of representing clients in Georgia, Alabama and throughout the country, Swift, Currie, McGhee & Hiers, LLP, has evolved into a law firm capable of handling all areas of civil law and litigation. With more than 130 attorneys, Swift Currie possesses the resources and abilities to tackle the most complex legal problems, while at the same time, providing its clients with individualized, prompt and cost-effective service. The firm has a wealth of experience across numerous practice areas and its depth of legal talent allows the firm to tailor such strengths to individual cases. For more information, please visit www.swiftcurrie.com.