WEBINAR: Pay The Green - Be Mindful of the Lien!
03.16.2017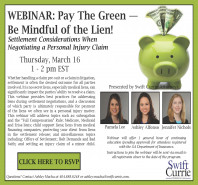 Pamela Lee, Ashley Alfonso and Jennifer Nichols will be presenting a webinar on Thursday, March 16, from 1- 2 pm EST. They will be presenting on "Pay The Green - Be Mindful of the Lien! Settlement Considerations When Negotiating a Personal Injury Claim."

The webinar will offer 1 general hour of continuing education hours for attendees registered with the Georgia Department of Insurance (pending approval). During this webinar, Lee, Alfonso and Nichols will be discussing best practices for addressing liens during settlement negotiations, and a discussion of which party is ultimately responsible for payment of the liens. This webinar will address topics such as subrogation and the "Full Compensation" Rule, Medicare, Medicaid, child support liens and protecting your client from liens in the settlement release.