Webinar: Is That Really An Accident
07.18.2017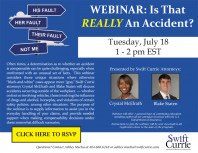 Crystal McElrath and Blake Staten will be hosting a webinar on Tuesday, July 18, from 1-2 pm EST to discuss "Is That REALLY An Accident?"
Often times, a determination as to whether an accident is compensable can be quite challenging, especially when confronted with an unusual set of facts. This webinar considers those unique situations where otherwise "black-and-white" cases appear more "gray." Swift Currie attorneys Crystal McElrath and Blake Staten will discuss accidents occurring outside of the workplace — whether on foot or involving vehicles, those involving the influence of drugs and alcohol, horseplay, and violations of certain safety policies, among other situations. The purpose of the webinar is to supply information to assist you in the everyday handling of your claims, and provide needed support when making compensability decisions under these somewhat difficult scenarios.
This program will offer 1 Georgia CE hours for adjusters (pending approval) by the Georgia Department of Insurance.