Swift Currie Continues Growth in Atlanta With 3 New Litigators
08.14.2019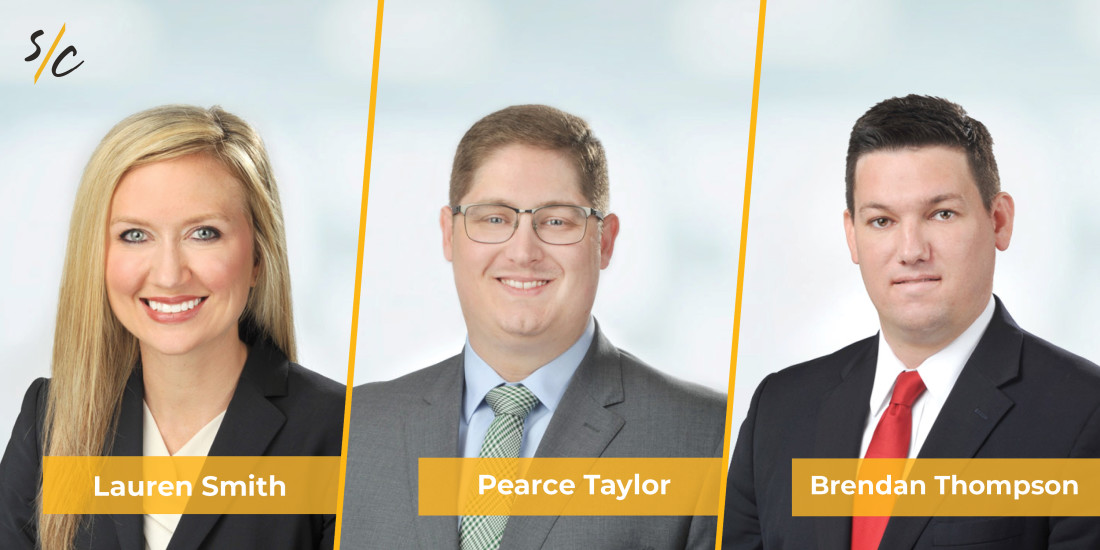 Swift, Currie, McGhee & Hiers, LLP, announces the addition of three new attorneys to the firm's Atlanta office: Lauren R. Smith, Pearce W.J. Taylor and Brendan S. Thompson. Their arrival follows the addition of 11 attorneys so far this year and 45 new hires in 2018, bringing the firm's headcount to approximately 150 attorneys and making it the largest firm in Georgia focused solely on litigation.
"Our significant growth throughout the past three years has aimed to meet the growing demand for top-notch counsel in today's market, and we remain committed to ensuring our growth hinges on the addition of excellent attorneys who share our firm's dedication to client advocacy and results," said Terry O. Brantley, managing partner at Swift Currie. "We are excited to welcome Lauren, Pearce and Brendan as great additions to our diversely talented and growing team of litigators as we strive to remain the go-to firm for any litigation matter businesses face."
Lauren Smith joins Swift Currie's coverage and commercial litigation practice as an associate concentrating on automobile litigation, insurance coverage, premises liability and property insurance. She brings experience working closely with clients through all phases of the legal process, including intensive planning and preparation, evidence gathering, strict adherence to statutory rules and presentation of evidence and legal argument at time of trial. Smith earned her undergraduate degree from Auburn University and law degree from Georgia State University College of Law and was recently named a 2019 Super Lawyers Rising Star.
Pearce Taylor joins Swift Currie's workers' compensation practice as an associate representing employers and insurers in workers' compensation claims and disputes, negotiating settlements and mediating resolutions. His experience also includes the defense of personal injury, premises liability and general tort civil litigation. Taylor earned his undergraduate degree from the University of Central Florida and law degree from the Florida Coastal School of Law.
Brendan Thompson joins the firm's litigation practice as an associate. Thompson has solely devoted his career to insurance defense matters with experience defending clients in personal injury, premises liability and automobile accident cases. He earned his undergraduate degree from the University of Central Florida and his law degree from the University of Arkansas School of Law.
This news was published on the Daily Report on Sept. 13 (available here) and in the Sept. 16 print edition. It was also published in the Atlanta Journal-Constitution's Newsmakers section on Sept. 1 (available to subscribers here), on Atlanta CityBizList on Aug. 18 (available here) and in the Georgia Bar Journal's October 2019 issue (available here).
About Swift, Currie, McGhee & Hiers, LLP
Based on more than 50 years of representing clients in Georgia, Alabama and throughout the country, Swift, Currie, McGhee & Hiers, LLP, has evolved into a law firm capable of handling all areas of civil law and litigation. With approximately 150 attorneys, Swift Currie possesses the resources and abilities to tackle the most complex legal problems, while at the same time, providing its clients with individualized, prompt and cost-effective service. The firm has a wealth of experience across numerous practice areas and its depth of legal talent allows the firm to tailor such strengths to individual cases. For more information, please visit www.swiftcurrie.com.