Swift Currie Adds 3 More Attorneys to End Year Marked By Continued Growth
12.20.2019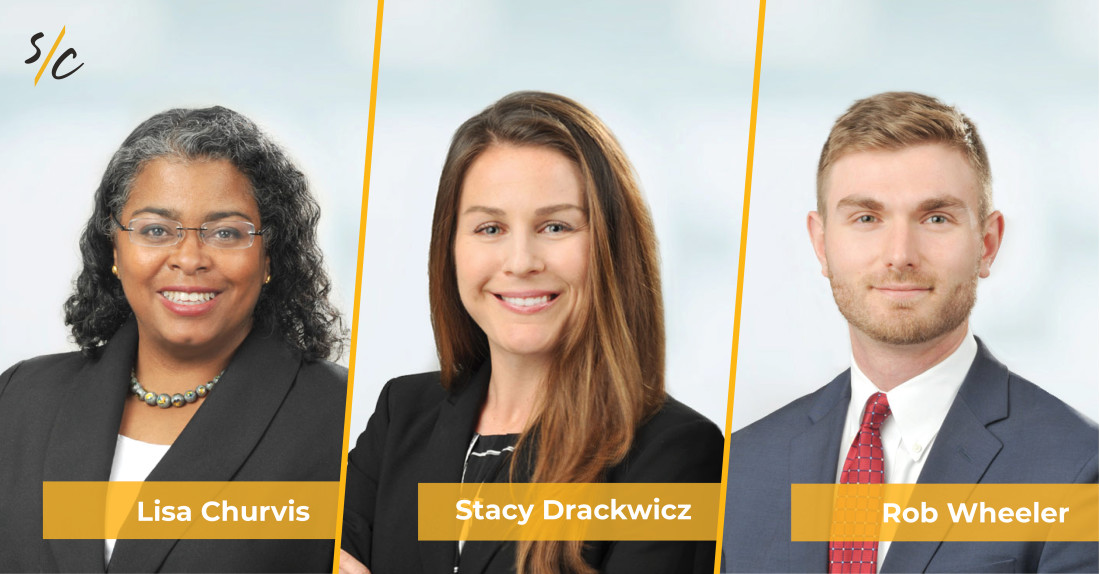 Swift, Currie, McGhee & Hiers, LLP, is pleased to announce the arrival of Lisa Churvis, Stacy Drackwicz and Robert Wheeler to the firm's litigation practice in Atlanta. With today's announcement, the firm has added 29 new attorneys in 2019, which follows the addition of 45 new hires in 2018 and brings the firm's headcount to more than 150 attorneys.
"As we head into a new decade, we are excited about our continued momentum of growth with talented individuals — like Lisa, Stacy and Robert — who bring a breadth of experience in litigation, as well as diverse perspectives to our clients' growing needs," said Terry Brantley, managing partner at Swift Currie. "Our firm has grown dramatically over the past three years, which allows us to provide the effective litigation service people have come to expect from Swift Currie for more than 50 years, but on a larger scale and for any litigation challenge clients face."
Lisa Churvis defends individuals and businesses in matters related to employment and automobile litigation and premises liability. Prior to joining Swift Currie, Lisa served as staff attorney at the Eleventh Circuit Court of Appeals. She also interned for the Honorable Amy Totenberg in the United States District Court for the Northern District of Georgia and the Honorable John Goger in the Superior Court of Fulton County. She earned her undergraduate degree from the University of Virginia, MBA from Emory University and law degree from Georgia State University College of Law.
Stacy Drackwicz practices in the areas of general liability and civil litigation with an emphasis in products liability, commercial litigation and defense of health care professionals. Barred in Georgia, Massachusetts and Washington, D.C., she brings a broad perspective to her cases based on her years of practice in multiple jurisdictions, where she developed cases throughout all stages of litigation and worked with experts to craft strategies to disprove negligence and causation. Drackwicz earned her undergraduate degree from Gettysburg College and her law degree from New England Law Boston.
Robert Wheeler represents insurance companies in a wide array of litigation matters and dedicates his practice to resolving claims related to automobile and trucking litigation, catastrophic injury and wrongful death, commercial litigation and insurance coverage, as well as matters related to premises, products and professional liability. Wheeler is barred in both Florida and Georgia and has experience trying civil and criminal cases. Wheeler earned his undergraduate degree from the University of Florida and law degree from Florida State University College of Law.
Metro Atlanta CEO published this news on Jan. 15 (available here).
About Swift, Currie, McGhee & Hiers, LLP
Based on more than 50 years of representing clients in Georgia, Alabama and throughout the country, Swift, Currie, McGhee & Hiers, LLP, has evolved into a law firm capable of handling all areas of civil law and litigation. With approximately 150 attorneys, Swift Currie possesses the resources and abilities to tackle the most complex legal problems, while at the same time, providing its clients with individualized, prompt and cost-effective service. The firm has a wealth of experience across numerous practice areas and its depth of legal talent allows the firm to tailor such strengths to individual cases. For more information, please visit www.swiftcurrie.com.