All About the Benjamins: Evaluating and Settling New Claims
01.26.2017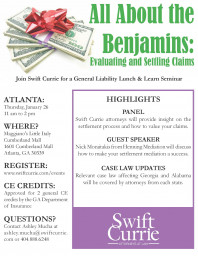 Swift Currie will be presenting a litigation seminar for our clients on Thursday, January 26, 2017, from 11:00 am - 2:00 pm at Maggiano's Little Italy at Cumberland in Atlanta, Ga. This program is free to attendees and includes a complimentary lunch.
2 general CE hours will be offered and have been approved by the GA Department of Insurance.
During this complimentary seminar, we will discuss ways to value your claims, how to make the settlement process a success, as well as relevant case law affecting Georgia and Alabama.