Swift Currie Recognized in National Ranking of "Best Law Firms"
11.02.2018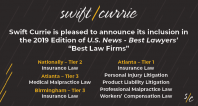 Swift, Currie, McGhee & Hiers, LLP, is pleased to announce its inclusion on the 2019 U.S. News - Best Lawyers' "Best Law Firms" list. The firm was recognized for its work both nationally and in the Atlanta and Birmingham metropolitan areas, with six different practice areas included in the designation. The complete list of the firm's rankings is available here.
"We are particularly honored to be represented nationally and locally in this list because it is selected based on client feedback and surveys, which makes it a true reflection of our firm-wide commitment to client service and effective litigation counsel," said Terry O. Brantley, Swift Currie managing partner. "Our inclusion across a variety of the publication's litigation categories is also reflective of our firm's ability to navigate clients through the broad spectrum of litigation matters, especially as we continue our significant growth with diversely talented attorneys in both our Atlanta and Birmingham offices."
Swift Currie is recognized in the following practice areas:
Nationally – Tier 2
Atlanta – Tier 1
Insurance Law
Personal Injury Litigation – Defendants
Product Liability Litigation – Defendants (up from tier 2)
Professional Malpractice Law – Defendants
Workers' Compensation Law – Employers
Atlanta – Tier 3
Medical Malpractice Law – Defendants
Birmingham – Tier 3
U.S. News & World Report has served as a multi-platform digital publisher of service news and information for more than 80 years. The publication has earned its reputation as the leading provider of service news and information that improves the quality of life of its readers by focusing on health, personal finance, education, travel, cars, news and opinion.
The Best Lawyers in America was first published in 1983 and is the oldest and most respected legal referral guide in the U.S. Best Lawyers annually surveys thousands of top attorneys, who confidentially evaluate the legal abilities of their professional peers.
About Swift, Currie, McGhee & Hiers, LLP
Based on more than 50 years of representing clients in Georgia, Alabama and throughout the country, Swift, Currie, McGhee & Hiers, LLP, has evolved into a law firm capable of handling all areas of civil law and litigation. With approximately 150 attorneys, Swift Currie possesses the resources and abilities to tackle the most complex legal problems, while at the same time, providing its clients with individualized, prompt and cost-effective service. The firm has a wealth of experience across numerous practice areas and its depth of legal talent allows the firm to tailor such strengths to individual cases. For more information, please visit swiftcurrie.com.