Swift Currie Attorneys Named 2017 Super Lawyers and Rising Stars
02.23.2017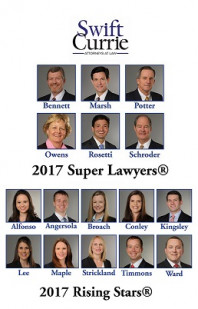 Swift, Currie, McGhee & Hiers, LLP, is pleased to have a number of attorneys recognized in the distinguished group of 2017 Super Lawyers and Rising Stars.
Douglas A. Bennett, C. Bradford Marsh, M. Diane Owens, Robert R. Potter, Michael Rosetti and Michael H. Schroder are among the 5 percent of Georgia lawyers, in more than 70 practice areas, named as Super Lawyers for 2017. Ashley D. Alfonso, Joseph J. Angersola, Ashley W. Broach, Amanda M. Conley, Daniel J. Kingsley, Pamela N. Lee, Christy A. Maple, Rebecca E. Strickland, Drew C. Timmons and Thomas B. Ward are included in the 2.5 percent of lawyers named to the 2017 list of Rising Stars in Georgia.
Georgia Super Lawyers, an industry magazine published annually, mailed thousands of ballots to lawyers across Georgia asking them to vote for lawyers they had personally observed in action, whether as opposing counsel, as co-counsel or from first-person observation in the courtroom. Those nominated as Rising Stars must be under 40 years of age or have practiced for less than 10 years.
After a long selection process, the list is finalized and includes only a select group of Georgia lawyers. To ensure a diverse and well-balanced list, the research staff considers factors such as firm size, practice area and geographic location. The selected attorneys will be listed in the March 2017 issue of Atlanta Magazine and Georgia Super Lawyers, as well as on the website www.superlawyers.com.