"What Goes Into A Law Firm Rebrand? 'Everything is on the Table,'" Mid-Market Report
11.14.2018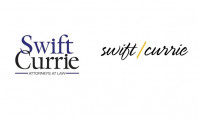 On Nov. 9, 2018, Mid-Market Report published an article highlighting Swift Currie's recent rebranding efforts. Part of the firm's rebranding efforts include a new logo with the firm's names in lower-case cursive, divided by a gold slash — a significant change from its predecessor. Swift Currie's roster has doubled since the logo was last changed in 2003, now with approximately 150 lawyers.
The change was ushered in by a firm-wide committee of approximately 20 people, but "we got our share" of concerns, said Terry Brantley, the firm's managing partner. Through a combination of interviews with clients, outside lawyers and firm lawyers and staff, the firm was able to find a base for its rebrand after hearing consistent feedback that the firm's attorneys are approachable.
Even with a new logo, the firm's commitment to clients remains. "It's a new look, but the same client service," said business development director Michele Golivesky.
For the full article, please click here.