Law Firm Rebranding Goes Beyond Shortening the Name," The Daily Report
11.07.2018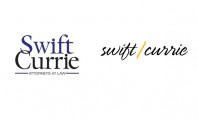 Swift Currie and the recent upgrade to the firm's logo were highlighted by The Daily Report on Nov. 6, 2018. As a part of an ongoing effort to update the firm's brand, which will include a revamped website launch in 2019, Swift Currie unveiled a new logo in August. The move to the new logo was based, in part, on interviews with clients, outside lawyers and other attorneys within the firm, which ultimately revealed that the firm was known for lawyers who were approachable and with whom clients can talk about anything.
Terry Brantley, Swift Currie's managing partner, noted that the firm creates connections beyond "just a client," which is reflected in the new informal look.
"It's a new look, but the same client service," added Michele Golivesky, Swift Currie's business development director.
The firm has more than doubled in size since its last branding update in 2003, and today, Swift Currie has approximately 150 attorneys.
For the full story, please click here.