WEBINAR: Power in the Policy
04.19.2017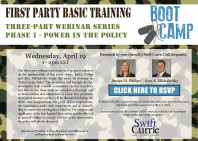 Jessica Phillips and Alex Mikhalevsky will be presenting part one of a three-part webinar series on Wednesday, April 19, from 1-2 pm EST. They will be presenting on "Power in the Policy."

This three-part webinar series trains new property adjusters on the fundamentals of first party claims. Jessica Phillips and Alex Mikhalevsky begin this series by focusing on "Power in the Policy." The presenters will highlight the key investigative tools available to insurance carriers in policies and how to use those tools to complete a thorough and accurate analysis and adjustment of a loss. Key provisions of a typical insurance policy will be discussed including the duties after loss provision, the proof of loss requirement, the examination under oat requirement and in insured's duty to assist in the investigation of the loss. The purpose and significance of the Suit Against Us provision and the effect of an insured's failure to comply with his or her duties under the policy will also be discussed.
The webinar will offer 1 general hour of continuing education hours for attendees registered with the Georgia Department of Insurance.
WEBINAR INSTRUCTIONS:
To join the webinar click here: Swift Currie Webinar (note: you may need to remove any pop-up blockers). At the login screen, enter your information and click "Join Meeting."
Once in the meeting room, you will see a "Connect Audio" box in the middle of your screen:
There are 2 options for connecting the audio:
Option #1 - Enter your 10-digit direct dial phone number (including area code) in the designated field in the box and click "CONNECT ME." (NOTE: If you do not have a direct dial number but instead have an extension, you cannot use this option. Proceed to option 2 below.) The webinar software will automatically call you back on the direct dial number you provided once the webinar has started. When you answer the call, follow the prompts by the automated voice and you will be connected via audio to the webinar.
Option #2 - Dial the following toll-free number to listen to the audio portion of the webinar over your phone: 1-855-747-8824
When prompted, enter guest code: 552859#
You can then close the "Connect Audio" box in the middle of your screen by clicking the "X" in the top right corner of that box.
If you have trouble accessing or logging in to the webinar site, please consult your internal IT department as it may have to do with the browser you are using or firewalls in place by your company.