Decision 2016 - WC Lumbar Injuries & Pain Management: Make the Right Choice
03.24.2016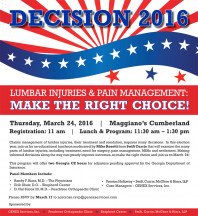 Thursday, March 24, 2016 | Maggiano's Cumberland

Registration: 11 am | Lunch & Program: 11:30 am – 1:30 pm
Please RSVP by March 17 to norcross.rsvp@genexservices.com
Claims management of lumbar injuries, their treatment and resolution, requires many decisions. In this election year, join us for an educational luncheon moderated by Mike Rosetti from Swift Currie that will examine the many

parts of lumbar injuries, including treatment, need for surgery, pain management, MSAs and settlement. Making informed decisions along the way can greatly improve outcomes, so make the right choice and join us on March 24!
This program will offer two Georgia CE hours for adjusters pending approval by the Georgia Department of Insurance.
Panel Members Include:

• Randy F. Rizor, M.D. – The Physicians

• Erik Shaw, D.O. – Shepherd Center

• D. Hal Silcox III, M.D. – Peachtree Orthopaedic Clinic

• Preston Holloway – Swift, Currie, McGhee & Hiers, LLP

• Case Managers – GENEX Services, Inc.
Sponsored by:

GENEX Services, Inc.

Peachtree Orthopaedic Clinic

Shepherd Center

Swift, Currie, McGhee & Hiers, LLP